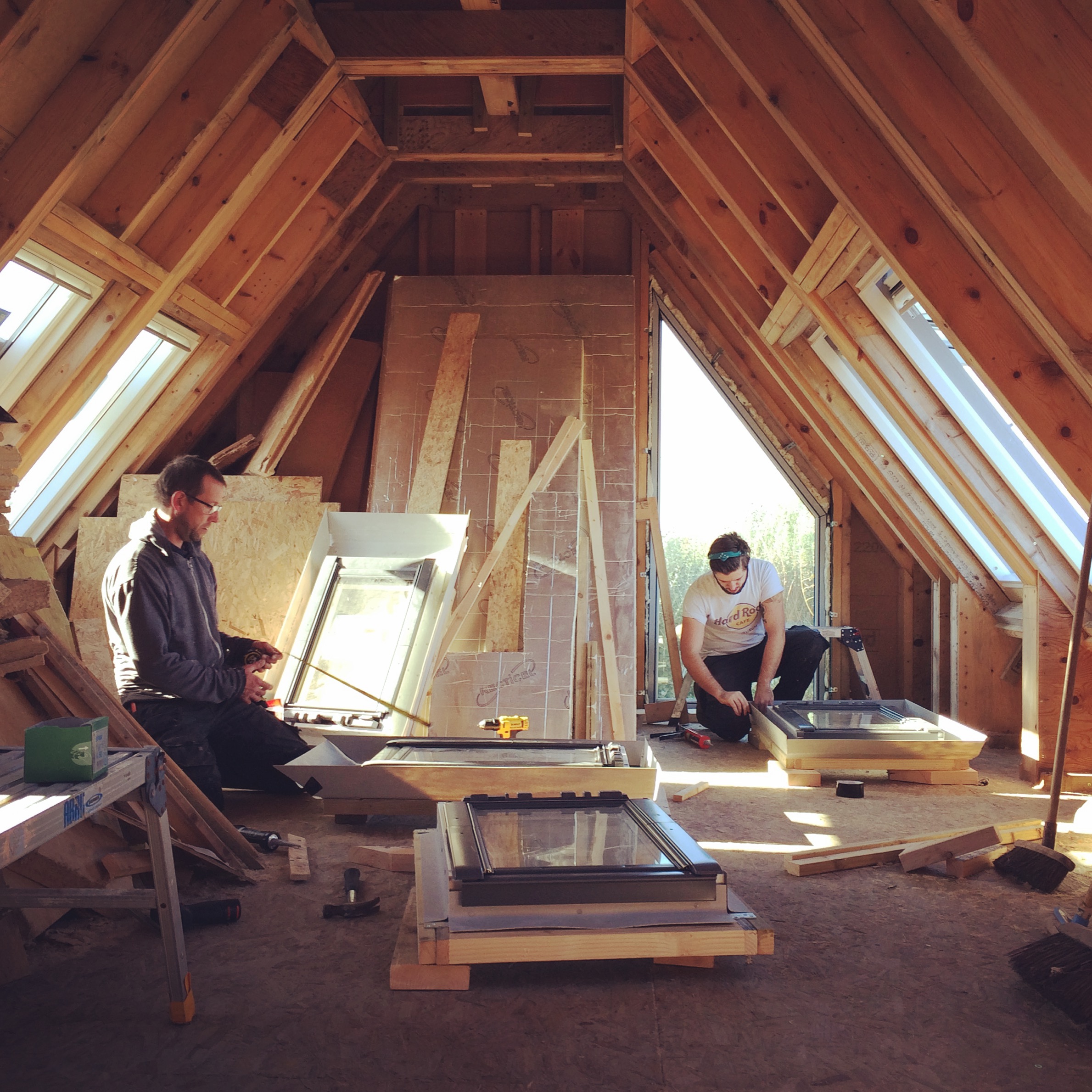 Location: Kilmolauig, Isle of Tiree
Clients: Micheal Holliday & Lynne Cox
Type: 2 Bedroom extension to existing Tiree Blacktop House
Status: Under Construction
Contractor: N/A
Structural Engineer: Woolgar Hunter (Glasgow)
Quantity Surveyor: N/A
Foundations & Roof: CKR Island Construction (Graeme McColl, Tiree)
Photography: Roots & Sebb Hathaway
Industry Sponsorship:
Scholarship Sponsorship:
Four Winds is also known as the "Tog House". It is the biggest construction project we have taken on through our 'live-build' construction school 'Tog Studio'.
Click here to see films of this project under construction.
We have designed a contemporary 2 bedroom extension to a traditional Tiree 'Blacktop' House. The extension emulates many of the traditional details of these vernacular buildings which have evolved to resist the worst weather that comes straight off the Atlantic Ocean. The design includes an aerodynamic curved ridge and recessed eaves to prevent uplift of the roof.
To improve upon the traditional construction methods, rather than using thick masonry walls, we have used a timber frame (supplied by BSW Timber) with Smartply Propassiv OSB (supplied by Medite Smartply) and thick, 'breathable' walls of natural insulation to produce a comfortable interior environment that will meet modern energy performance standards. We have also opted for an innovative black fibreglass roof covering which we see as a more robust approach to the traditional black tar and felt roof coverings which require regular maintenance. This will be the first pitched roof that we know of that has been made using this material.
We have also put our own spin on the traditional symmetrical plan of Tiree houses to create a sequence of spaces that flow together efficiently and let natural daylight penetrate into the core of the house. Modern glazing allows the design to make the most of the available views and capture heat from the sun.
The build began in April 2016 and we have run several Tog Studio courses which has offered opportunities for participants to learn about timber frame construction. In August 2016 we also ran a course specifically focussed on the installation of slate cladding. This included expert technical tuition from representatives from slate supplier Cupa Pizarras & Burton Roofing.
We are exceedingly fortunate to have had many friends and family return to Tiree to get involved in the build with us.
To see our progress onsite please check out our photo diary on our Instagram, Twitter or Facebook.